The M365 Chicago Virtual Conference brought to you by VEEAM is a free online, one day event on Friday, November 13 2020. We will have sessions with speakers from the area and many favorites from around the world. This event is free for all wanting to attend. Come join us as we talk about the many different pieces of Microsoft 365 including Azure.
Sponsors
Conference Sponsor
Veeam® is the leader in backup solutions that deliver Cloud Data Management™. Veeam provides a single platform for modernizing backup, accelerating hybrid cloud and securing your data. Our solutions are simple to install and run, flexible enough to fit into any environment and always reliable.
Veeam Software Corporation | https://www.veeam.com
Track Sponsors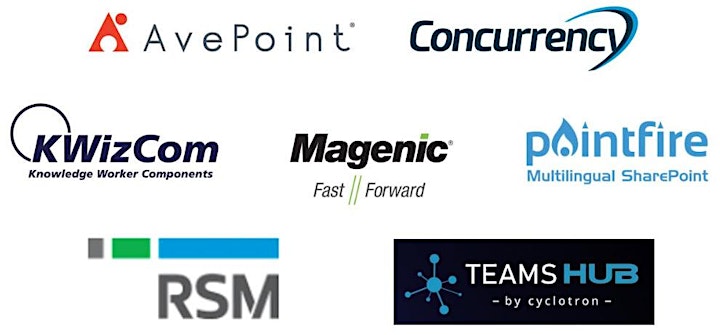 AvePoint accelerates your digital transformation success. Over 16,000 companies and 7 million Office 365 users worldwide trust AvePoint software and services for their data migration, management, and protection needs in the cloud, on-premises and hybrid environments. AvePoint is a Microsoft Global ISV Partner and four-time Microsoft Partner of the Year Award winner. Founded in 2001, AvePoint is privately held and headquartered in Jersey City, NJ.
AvePoint, Inc. | https://www.avepoint.com
Concurrency is an organization of Change Agents. Our inspired technologists challenge the status quo, create value and help clients find better ways to leverage technology to fulfill their strategies and improve their businesses.
Concurrency, Inc. | https://www.concurrency.com/
TeamsHUB by Cyclotron provides companies with a quick to deploy, scalable and easy to administer solution for Teams Governance, Employee Engagement and Microsoft 365 Adoption.
If you are using Teams, you need TeamsHUB by Cyclotron.
We automate Microsoft 365 governance and administration. Quick to implement, easy to use, and scaled to fit your needs. This is a must have to maximize the return for your Microsoft 365 investment.
TeamsHUB by Cyclotron | www.teamshub.io/
Since 2005, KWizCom has provided innovative solutions and services to make SharePoint even better for over 10,000 companies worldwide. KWizCom is a leading provider of SharePoint Forms, Workflows and over 70 other add-ons for SharePoint on-premises and Office 365 apps. KWizCom a Gold Certified Microsoft Partner is headquartered in Toronto, Canada. To find out more about the company and its products, please visit www.kwizcom.com
KWizCom Corporation | https://www.kwizcom.com
For over two decades, Magenic has helped some of the world's best and biggest companies create innovative digital products with quality and speed. We've built our business by moving fast, looking forward, and collaborating with clients to get them to market sooner. Find out how we can help you Fast Forward to success.
Magenic | https://www.magenic.com
The gold standard for multilingual SharePoint. PointFire Translator completes SharePoint's new Multilingual Page Publishing, adding automatic machine translation.
PointFire works on premise and Online, translates classic or modern pages, documents, even PDF, to over 50 languages. Features instant language toggle, automatic UI localization, filters content by language. 1.5 million users.
PointFire | https://pointfire.com/
Experience the confidence that comes with knowing you are using the right technology mix for your business. RSM technology advisors offer strategy, development, management and implementation services on the full suite of Microsoft business solutions including Microsoft 365, Dynamics 365, Azure and the Power Platform.
RSM US LLP | https://www.rsmus.com/